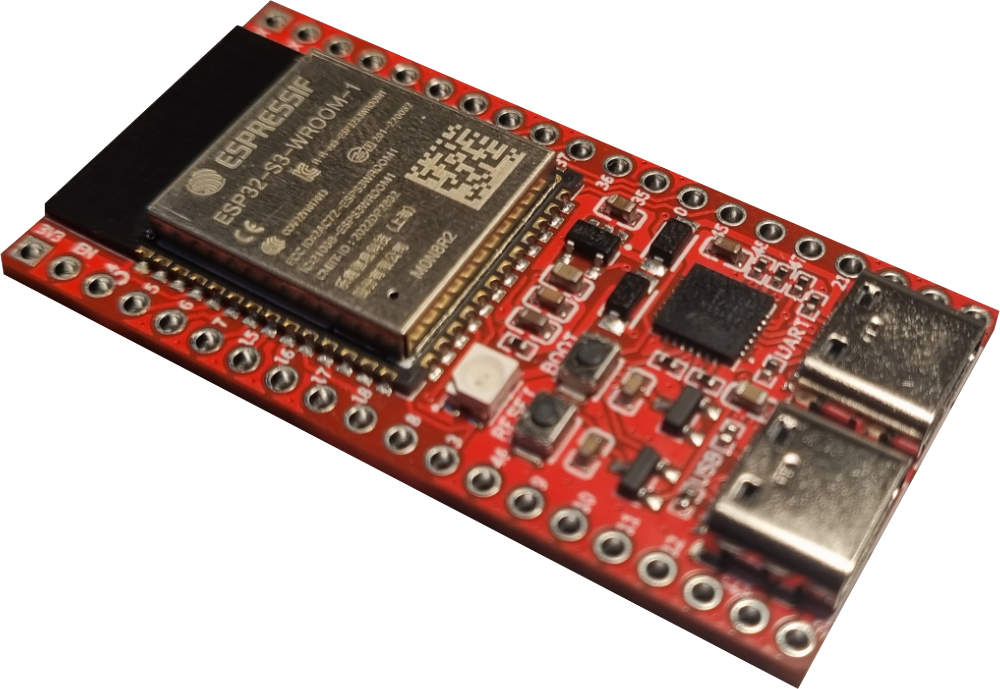 Setup and Configuration
Arduino Code Examples
Python Code Examples
The RedPill development kit is built with the ESP32-S3-WROOM-1 module from Espressif, with 8MB of Flash and 2MB PSRAM.
The narrow format allows for use on a breadboard and access to pins on both sides.
Additionally, it has an RGB addressable LED (Neopixel / SK6812), connected to the GPIO3 pin.
Main specifications:
32-bit Xtensa(r) dual-core LX7 @240MHz
WiFi 802.11 b/g/n 2.4GHz + BLE 5, Bluetooth mesh
8 MB Flash
2 MB PSRAM
512 KB SRAM
16 KB SRAM in RTC
384KB ROM
36 exposed GPIOs
SPI, UART, I2C, I2S
14x Touch sensors
USB 1.1 OTG
12bit ADC
Neopixel RGB LED on GPIO3
USB to Serial on board
On-board PCB antenna
Timers and Watchdogs
Applications:
Generic Low-power IoT Sensor Hub
Generic Low-power IoT Data Loggers
Smart Building
Industrial Automation
Wi-Fi enabled Toys
Wearable Electronics
etc